Nama-Stay? Dogs Bolster Relaxation in Yoga Class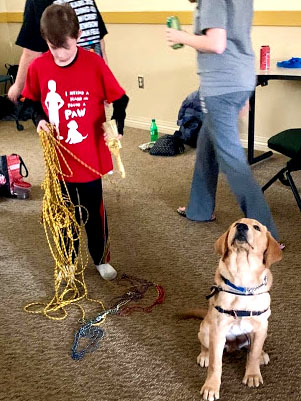 Sun flooded through the big windows in the McGuffey Hall classroom, with an array of yoga mats scattered across the carpet. Calming music buzzed in the background, along with the sounds of dogs trotting around the room.
The dogs, all service dogs affiliated with Paws for a Cause, roamed free during the event, often lying next to the human participants as they moved through each yoga pose.
Paws for a Cause is a student organization run through Miami, that fosters dogs to help with training, development and socialization.
Paws for a Cause hosted this Doga — dog yoga — event, Sunday, April 28, as the latest in a series of fundraising events to help 10-year-old Izaac Reese and his family raise the money needed to purchase a service dog for Izaac, who suffers from brain damage. A service dog would help Izaac navigate through the public, and the dog would be able to find him through scent if he ever were to run away, according his mother, Aimee Reese.
Thirteen people attended the event, as well as the instructor and Izaac's family. Many of the attendees were active members of the Miami Paws for a Cause organization.
"This event allows for people to come see the service dogs, relax with some yoga and learn about Izaac's story," said Allie Humenay, the instructor of the event and the incoming Paws for a Cause vice president. The event allowed the outside community to be active, interact with the service dogs and support Izaac.
"I really liked the event because you get to destress while hanging out with the puppies," said Sara Marshall, a participant at the event.
Natalie Smithen, the fundraising chair for Paws for a Cause, noted the location and time change of the event contributed to the small number of attendees and few donations made at the event. Originally it was to be held outdoors at Uptown Park, but was moved inside at the last minute because of cold weather and the threat of rain.
They raised $85 at the event. However, the organization's web page includes a posting about Izaac's story, which helps spread the word and encourages additional donations. Aimee Reese said Paws for a Cause has raised more than $7,000 for Izaac since last year.
The cost to be on the breeding list for the service dog is $17,000. The Reese family has just reached the halfway point with the money from Paws for a Cause and other donations. The organization will resume holding activities to help for Izaac once fall semester begins, Humenay said. The goal is to eventually fully fund Izaac's service dog. She plans to hold more events like Doga to bring the community together to support Izaac and other families in need.
"This event shows how much Paws for a Cause cares about the community and being involved in simple events like these so much to kids like Izaac," Humenay said. "We want to be able to fully fund Izaac's service dog to bring him the safety he needs."