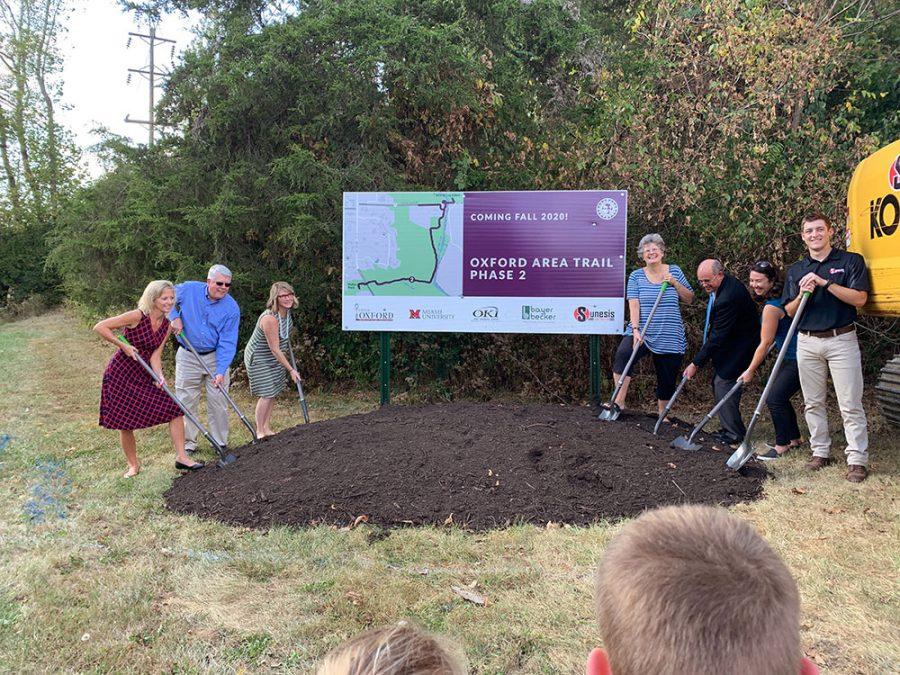 Construction for Phase II of the Oxford Area Trail System (OATS) began Tuesday, Oct. 1, with a groundbreaking ceremony near the DeWitt log house off Ohio Route 73 on the east side of the Miami University campus.
Officials from Oxford, students and local residents gathered in the parking lot of the DeWitt log house for the ceremony. They were greeted with water, trail mix, compostable cups, and a map of the ambitious future Oxford Area Trail Systems project.
This second phase of the trail system will connect to the existing coal ash path off of Ohio Route 73, near the DeWitt cabin and travel under the highway, behind Miami's Western campus, travel under US 27 and end at Peffer Park, a distance of about 1.3 miles. The trail system, a 10-year project, eventually will encircle the city.
The total cost for this part of the trail is $2,355,155. It is funded in part, by a transportation alternative grant through the Ohio Kentucky Indiana Regional Council of Governments in the amount of $750,000. Miami University is contributing $700,000 and the City of Oxford is funding the remainder through the trail levy in the amount of $905,155.
In May 2018, the citizens of Oxford voted to pass a levy that allocated $10 million for planning, constructing and maintaining the trails.
Phase I of the project was completed in 2017. It travels along Morning Sun Road, to the Black Covered Bridge and ending in Leonard G. Howell Park. Both Phase I and Phase II will account for about 2.3 miles of trail.
Assistant City Manager Jessica Greene, who has been leading the project, explained what residents can expect in the future with their trail system.
"We hope to finish this part a year from now, weather dependent." said Greene. Then "in 2022 we will do both Phase III, which will come back and pave the crushed stone because it is washing out all the time, and Phase IV at the same time."
Phase III will connect Phase I to Phase II and extend from Peffer Park to Talawanda High School. Phase IV will extend from Talawanda Middle School to Oxford Community Park.
Looking to the future, "we are going to continue to look for grants to do the rest and use the levy that we passed as matching dollars for these grants to try to stretch what we're doing." said Greene.
According to Oxford Mayor Kate Rousmaniere, the original OATS group was thought to be started in either 2001 or 2000. That group did a survey of the trail and raised about $30,000, but the money was unused until July 2013, when Greene organized a group for the first bike trail meeting. Six months later, the group changed its name to the Oxford Area Trail Group and put the money into a foundation to help fund this project.
Oxford resident and parent Brandon Flessner is excited about the project.
"We already use the first phase, I run on it and my kids bike on it, so we're really excited," said Flessner. "It's a fantastic recreational activity for us.We hope that by the time they're in high school they can bike from our house to the high school."