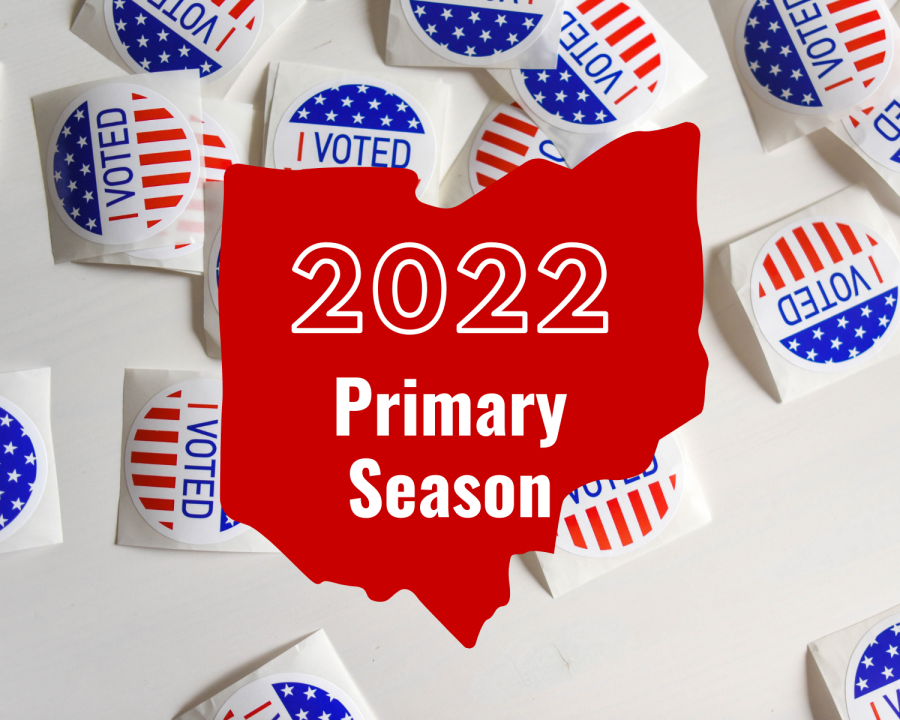 Graphic by Emily Scott
Ohio's primary elections are currently set to take place May 3, but that could soon change due to a redistricting process that is still incomplete.
On the date of the primary, Ohio's Democratic and Republican voters will be able to choose which candidates they wish to see in the Nov. 8 general election. Most attention may be on the races for governor and senator this primary season, but there are plenty of local races in Butler County to keep up with. 
The ballot has no local contested races for the Democratic primary in Butler County. However, the primary race for governor and U.S. senator is contested for both parties. 
According to the Butler County Board of Elections, Voters who wish to participate in the primary elections must request the party ballot of their choosing when they show up on Election Day. When voters originally register, no party is chosen. To change parties, one must request the opposite party's primary ballot.
For a May 3 primary, the last day to register to vote is April 5. 
The current congressional maps were passed March 3 by the Ohio Redistricting Commission (ORC). This map is not currently under review by the Ohio Supreme Court but could still face lawsuits. 
Butler County is still in Congressional District 8, which is currently represented by Warren Davidson (R). This district now includes Darke County, southwest Miami County, Preble County, Butler County and western Hamilton County. 
The boundaries for Ohio General Assembly districts were rejected by the Ohio Supreme Court, Wednesday, March 16. Ohio legislators now have until March 28 to create new maps of those districts. This uncertainty has created the possibility of pushing the primary election date back. Holding an election so soon after the maps are decided would create problems with getting ballots prepared in time. 
Each time new maps are passed; the Butler County Board of Elections (BCBE) must update its voter database to ensure everyone has the right names on their ballot on Election Day. 
"Butler County was particularly lucky in this situation. After the first round of maps, we made these changes to our database," BCBE Deputy Director Eric Corbin said. "When the second and third maps came in, we were lucky that there were either no changes or very small changes. So, we feel good about where we are preparing for this election, but other counties are not so lucky."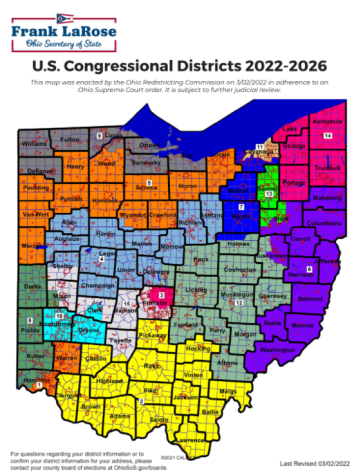 Ohio Secretary of state Frank LaRose already received an extension for military and overseas ballots. Corbin said usually, these ballots would have to be prepared by March 18, then received no later than 10 days after the election. For this election in Ohio, these ballots now must be prepared by April 5 and returned no later than 20 days after the election to be counted. According to Corbin, there are about 250,000 registered in Butler County and 35 of them requested a military or overseas ballot. 
Some have floated the idea of holding two primaries. The first would be for voter bases that are set, like county and statewide races. The second would be for the districts that are still in dispute.
Holding two primary races could greatly hurt voter turnout. Often, the bigger, statewide races attract more voters. In the 2018 primary elections, the last time a gubernatorial and senate primary was on the same ballot, only 18% of registered voters in Oxford Township showed up to the polls. 
"We imagine the turnout for a second election would be incredibly low and the monetary costs for the counties would be incredibly high," Corbin said.
For those who wish to request an absentee ballot, Corbin suggests voters do that as soon as possible. The last day to request one for a May 3 primary is April 30 at noon, but Corbin said for voters who wait that long, there is "almost no chance" they could get their ballot in on time. 
He also would like to encourage people to be poll workers for this election. People can only be poll workers in the county they are registered to vote in. 
Statewide races
Gov. Mike DeWine and Lt. Gov. John Husted are up for reelection after first winning the offices in 2018. The pair has three primary challengers. 
Before becoming Ohio's 70th governor, DeWine served as Ohio attorney general, Greene County prosecutor, Ohio senator, Ohio lieutenant governor, U.S. congressman and U.S. senator. Before becoming lieutenant governor, Husted served as the Ohio secretary of state. 
Since taking office three years ago, the pair boasts $2.2 billion in tax cuts, aiding in job creation and assisting law enforcement in fighting crime, according to their website. The website also claims that DeWine "is the most pro-life Governor in Ohio history," and has loosened gun restrictions by enacting a 'stand your ground' bill and eliminating the requirement for conceal carry permits. 
The following people are challenging DeWine and Husted in the Republican primary in May: 
Joe Blystone is a farmer and founder of an agricultural nonprofit, and his running mate Jeremiah Workman is a Marine veteran. They claim to be constitutional conservatives. According to their website, the two will fight to uphold state sovereignty, protect the Second Amendment, health autonomy and reign in big tech. 
Ron Hood and his running mate Candice Keller are both former Ohio representatives. Keller represented Ohio House District 53, which includes the Talawanda School District. According to their website, the two are against masks and vaccine mandates, critical race theory and abortion. They are for government and election reform, the Second Amendment and cutting government spending. 
Jim Renancci is a former U.S. Congressman and his running mate Joe Knopp is a film director. They are against critical race theory, Jobs Ohio and the common core education program. They are for the Second Amendment, state pension reform and education reform, according to their website. 
The following are running against each other for the Democratic nomination for gubernatorial candidate: 
John Cranley is Cincinnati's former mayor and his running mate, Teresa Fedor , who has been in the Ohio General Assembly since 2001. The pair's campaign site says they will fight for job creation, improved preK-12 education, clean water, better reproductive health , and universal broadband, internet and Wifi. 
Nan Whaley is Dayton's former mayor and her running mate Cheryl Stephens is the current CEO of the East Akron Neighborhood Development Corporation and the former mayor of Cleveland Heights. The pair wants to defend abortion rights, protect Ohio's natural resources, create jobs and initiate an ethics reform in Ohio government. If elected, Whaley would be the first woman to be elected Ohio governor. Nancy Hollister was Ohio's first female governor, but she only served 11 days after then-Gov. George Voinovich resigned. 
The positions of Ohio attorney general, auditor of state and treasurer of state will all be on November's ballot, but there are no contested primary contests. LaRose does have one primary challenger, John Adams, who is running to ensure election integrity, according to his website. 
Current U.S. Senator Rob Portman has served Ohio since 2011, but decided not to not run in 2022, leaving his seat wide open. The following are the Republican candidates facing each other in the primary:
Matt Dolan is currently an Ohio state senator and the chairman of the Senate Finance Committee. He lists 19 commitments to Ohio voters on his website, including fighting critical race theory, building infrastructure, combating the opioid epidemic and standing up to China. 
Mike Gibbons is an entrepreneur. He lists 10 areas of interest on his website, including lowering the national debt, protecting the Second Amendment, enacting government reform and banning critical race theory. 
Josh Mandel is the former treasurer of Ohio. According to his website, he is pro-God, pro-gun and pro-Trump. 
Neil Patel currently serves as a Republican on the Delaware County Central Committee Member. He wants to finish building the wall along the U.S.-Mexico border, rein in inflation, fight political correctness and ensure election integrity. 
Mark Pukita is an entrepreneur who previously challenged Portman. According to his website, he wants to transform government culture, always put America first, restore freedom and "stop a culture that creates ignorant, indoctrinated, dependent, entitled sheep." 
Jane Timken is the former chairman of the Ohio Republican Party and has received Portman's endorsement.  She supports Ohio's farmers, is pro-life, and wants to lower taxes, fight against "the Left's 'woke' education agenda" and uphold the Second Amendment, according to her website
JD Vance is the author of "Hillbilly Elegy" and a conservative pundit from Middletown. Ohio. According to his website, he wants to end abortion, restore manufacturing, help small businesses and protect conservative values. 
 Three Democrats are running against each other in May for the Senate seat: 
Morgan Harper is a consumer protection attorney and community organizer. According to her website, she would work to invest in rural Ohio, modernize public transportation, combat street violence and clean up the environment. 
Tracy "TJ" Johnson is an IT executive and public servant. According to her website, she would fight for reproductive rights, LGBTQ+ rights, small businesses and reforming the student loan process. 
Tim Ryan is currently the representative for Ohio's 13th Congressional District. He wants to invest in affordable healthcare, protect national resources, protect Social Security and help to end racial disparities. 
Local Races
Current Congressman for Ohio's 8th Congressional District Warren Davidson has represented the district since 2016. Davidson enlisted in the Army after high school, then owned and operated manufacturing companies after his return home. He now serves on the Financial Services Committee.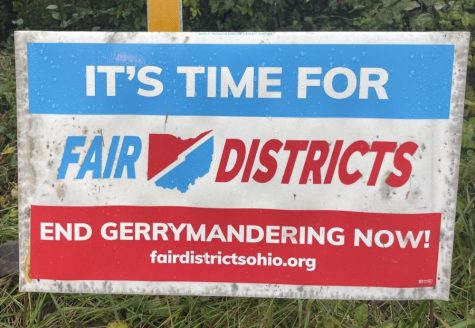 Davidson has a single challenger in this year's Republican primary. Phil Heimlich is a former Cincinnati Councilman and Hamilton County Commissioner. He is posing himself as an anti-Trump Republican who wants to lessen national debt and fight climate change. 
Vanessa Enoch is running unopposed in the Democratic primary and will face the winner of Davidson and Heimlich's primary fight. She ran against Davidson in 2020. 
Under the current maps for the Ohio House of Representatives, now in limbo because of the Ohio Supreme Court Decision, Sara Carruthers will face off against Cody Harper in the Republican primary for District 47. Democrat Sam Lawrence, a Miami University student, will face the winner in November. 
Prior to redistricting, the Talawanda School District fell into Thomas Hall's district, but that is no longer the case. Carruthers is an incumbent from Hamilton, Ohio, whose district now includes Oxford, Reily and Hanover Townships.
Carruthers was first elected to the Ohio House in 2018. The Miami graduate is from Hamilton and serves on three committees in the Ohio Legislature: behavioral health and recovery supports; families, aging and human services; and finance. 
Harper is also a Miami grad. He is a real estate agent and former account manager for several Fortune 500 companies. 
District 40, which includes Milford Township, has no contested primaries. Rodney Creech (R) will be facing Amy Cox (D) in November. Ohio Senate District 5, which also includes Milford Township, does not have any contested races. Stephen Huffman (R) does not have any challengers for the primary or general elections.