Boston Brass to perform at Miami Saturday Feb. 12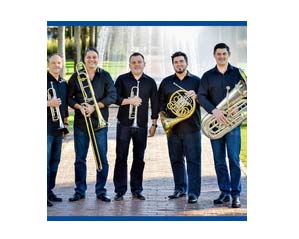 Boston Brass, a five-piece horn ensemble, will perform at Hall Auditorium in Oxford at 7:30 p.m., Saturday, Feb. 12. Tickets can be purchased through Miami's ticketing website at $15 for adults, $14 for seniors, and $10 for students and youth. 
The College of Creative Arts hosts the concert as part of its ongoing Performing Arts Series. The event will feature 10 songs arranged by members of the quintet, ranging from jazz standards to classical pieces. 
In compliance with Oxford's COVID-19 guidelines, masks will be required for admittance, and capacity at Hall Auditorium will be limited.