Goggin Ice Center offers eight-week 'Learn to Skate' program
If you want to learn how to glide across the ice, Goggin Ice Center's Learn to Skate program has  an eight-week group training course from Oct. 5 – Dec. 4.
The eight week program costs $120. If you are curious about learning to skate or play ice hockey, or if you're not sure about committing to eight weeks of training, the center is holding a free Learn to Skate, Learn to Play open house, 1:15 p.m. to 2:30 p.m., Saturday, Oct. 2.  
The Learn to Skate program invites aspiring skaters ages 3 and up to practice their skills with the help of Miami University student coaches.
Three of the Learn to Skate program coaches, Annie Givens, Sammie Levine and Hannah McDougall, said they've been skating since preschool and now skate together on the Miami senior varsity synchronized skating team.
"I've met some of my best friends through skating," said McDougall. "I think it's a great sport to be involved with. I think you learn a lot about teamwork and yourself and how to work hard, and even getting that from the tots age is amazing." 
Levine notes that skating helped her grow as an individual and she is excited to encourage novice skaters through the Learn to Skate program.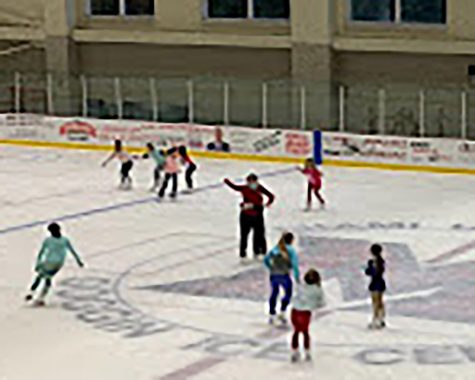 "I think the best part about coaching is to help these kids fall in love with the ice the way that we fell in love with it," said Levine. "I think I owe so many of my skills like leadership, time management, communication, teamwork all to skating. So, to start that so early with these girls is so awesome." 
Like Levine, Givens appreciates the opportunity to share her love for the sport with her skating students.
"Skating has become my happy place from the beginning," said Givens. "It's where I go to relieve all my stress, so I'm happy to pass that down to all these kids." 
The three coaches agree that anyone interested in skating should join the Learn to Skate program. However, McDougall adds that the first time on skates isn't always easy.
"The more you practice the better you'll be," said McDougall. "Expect to go out the first time and find it hard, but hopefully, you'll also find it really fun and that will inspire you to come back and keep having fun." 
Givens confirmed the initial struggle is worth it.
"It feels like nothing else in the world. So, give it a shot!" said Givens.
You can register online  on Miami's website for the upcoming Learn to Skate program.