New head coach leads Talawanda football team to victory
It was the second practice after their first win of the season under the direction of new head coach, Jay Volker, and the Talawanda High School football team was in high spirits.
On Sept. 17, the Talawanda Brave defeated the Carroll Patriots 7-0. The band of sweaty adolescent boys were invigorated from the win during their otherwise monotonous after-school practice this past Tuesday. Robust laughter spread from player to player as the teammates amiably heckled one another. Even the cross-country runners looping around the practice field snickered at the footballers' comments. 
Though his players were fired up, it's never been about winning for Volker.
"I've told the parents this. I've told the players this. The ultimate goal isn't to win football," said Volker. "I'm not going to judge how I am as a coach based off of our win-loss record. I'm getting these seniors ready for whatever this next year is, starting with these freshmen, sophomores and juniors and making them the best versions of themselves, then that's what's going to be a win."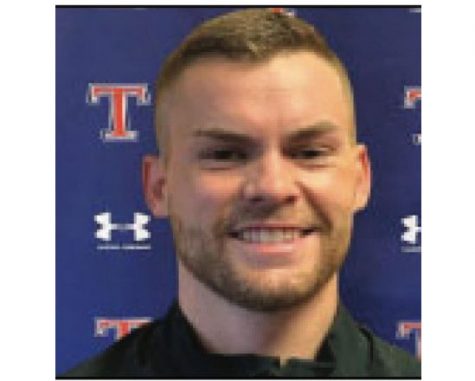 Volker was named the new head football coach by the Talawanda Board of Education in April. Prior to his appointment at Talawanda, Volker served as the strength and conditioning coach and defensive coordinator at Kings High School in Warren County. He also worked as an assistant coach at Moeller High School and La Salle High School, both in Hamilton County. 
Though he's now had several coaching positions, Volker said he never planned on being a coach. At Thomas More University in Crestview Hills, Kentucky, Volker studied biology and said he thought he'd end up in medical school or train to be a physician's assistant. But, as graduation drew closer in 2012, Volker said he wasn't excited about his post-graduation prospects. So, instead of pursuing a career with his degree in biology, he moved in with his brother, P.J. Volker, his wife and their two dogs.
At the time, Volker was the linebacker coach at Georgia State University and invited Jay to assist. During his two years at GSU with his older brother, something clicked.
"As soon as I got there I started to realize this is what I want to do," said Volker. "I want to become a football coach. I want to be able to teach lessons to young adults while we play the game of football." 
Though he started out with college football, Volker's main experience is with high school students and players. 
"Coming back to high school was a little bit different in that you have got to be able to see your players almost all day, every day. I think it allows for us to create better relationships with the players and I think it really helps to form them into what type of people they're going to be, leaving high school."
As a co-teacher of two anatomy and physiology classes and a manager of mentoring and student development at Talawanda, Volker is able to see his players from the moment they walk into the school building each morning to when they step off the field after practice.
Since last spring, Volker has become a well-liked member of the athletic staff.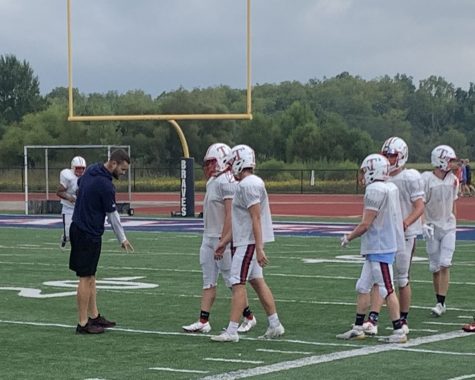 "He's an easy coach to work with, which isn't true for all football coaches," Head Athletic Trainer Greg Daniels said with a chuckle. "We hope we keep him."
His players agree. When asked if they liked their new coach, the teenage athletes gave enthusiastic head nods, playful "oh yeahs," and grateful grins. 
"He helps us outside of school and he's there for us whenever we need him," said sophomore outside linebacker Caleb Dillhoff.
Volker confirmed that he prioritizes fostering relationships with his players.
"I try to get to know our players as much as possible," he said. "I believe that you can hold kids very accountable, even at the high school level. And you can demand a lot of them, but they have to know that you care about them more than just what they're doing out on the football field. If you can prove that and you can show that you really do care about them, then you can coach them as hard as you want. And I do coach them hard. It's one of those things where you coach them hard and hug them after."
Junior middle linebacker Blake Detherage said he notices and appreciates Volker's demanding coaching style.
"He's intense, but you can really connect with him because of his age, so you can really have conversations with him," said Detherage. "You can joke around, but when it comes down to it you have to be serious with him. He wants you locked in and ready to go."
Though he can seem intense while in game-mode, Volker acknowledges the balance between being demanding and encouraging.
"When we're out on the field, I'm going to be pretty enthusiastic. I'm going to be pretty aggressive. I'm going to be loud, demanding a lot of them and I might be in their faces," Volker said. "I might be yelling at them, but once the whistle blows and we're off the field then the switch has to go back to, 'Okay, what can I do to take care of them? What can I do to make sure that they're learning, that they're taking care of their bodies, basically to take care of them as individuals before and after practice?'"
With five games left in his debut season at THS, Volker shares his hopes for the program and seasons to come.
"We want to be playing our best football, doing things the right way the whole time, basically looking forward to being excited about next year at the end of this year," he said. "Often there are teams that are hoping and praying for the end of the season and I want to make sure that's not the case. We're going to be excited to play the game. We're going to be excited to be around each other. We're going to have fun doing it. And we're going to be excited about the direction that this program is moving."