Oxford house signs reflect Miami students' personalities
Oxford's house-naming tradition, started about five decades ago by Miami University students, continues to excite and surprise students, residents and visitors alike.
The tradition consists of Miami students giving their off-campus residences funny, cute and sometimes crude names. Students then make signs, often wooden and hand painted, to hang on the exterior of the house.
"It's part of who we are," Jessica Greene, assistant city manager and Oxford resident, said. "It's a fun and unique thing about Oxford."
The city believes the house names started as a contest with the student paper that ended up catching on and eventually getting a bit out of hand because the city had no regulations, Greene said. City council did not want to inhibit free speech, but they did pass regulations on the size and placement of the signs.
Now, signs need to be no more than 6 square feet, attached to the wall of the house between 4 and 18 feet above the ground and naturally illuminated, according to cityofoxford.org.
"If there is an extreme violation based on size, we can go as a city and say, 'you can't have that there,' but there is no permit required," said Greene.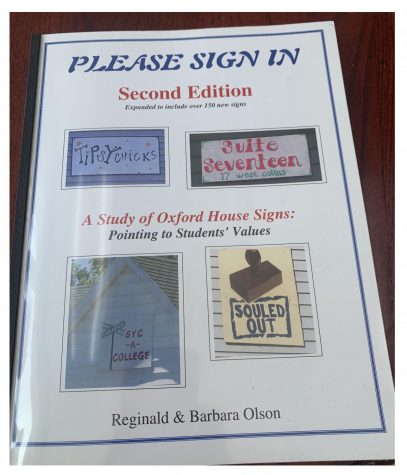 However, some Oxford real estate companies have made their own rules about house signs too. Park Place Real Estate states in its lease agreement that any signs attached to the exterior of the property prior to, during or after a tenancy are considered permanent fixtures and therefore Park Places' property. 
If tenants would like to remove or attach a sign, they need written permission from Park Place and it will cost them $45. The lease agreement also states that Park Place has the right at any time to remove or attach a house sign at its discretion.
Some of the top reasons why students name Oxford houses are to identify or help find a house, to be fun, humorous, cute or cool and for tradition, according to "Please Sign In," a published thesis by Reginald and Barbara Olson in 2004, that explores how Oxford house signs connect to student values.
Part of the traditional component is that many houses and house names are "passed down" from one group of members of a sorority or fraternity to another group in the same organization, which is why Christine Hughes, a senior at Miami and resident of "Illuminaughty," on N. University Avenue, wanted to live in her house. 
"It's an Alpha Chi Omega pass down and it's really well maintained with nice bedrooms, a porch and a backyard," Hughes said.
"Please Sign In" also found that most house names fall into categories referencing sex, drinking or drugs and mental states, like "Absolut Angels," which references Absolut vodka and is located on E. Walnut Street, or "Red Porch District," located on W. Collins Street.
Greene thinks most of the house signs are funny and enjoys the ones that are a nod to current times, however, she thinks some go too far.
"I try to remember these are young people and pushing limits is fine," Greene said. "But whatever that weird magical line is in the air and when they cross it, then I'm like 'that's no longer funny.'
Others are just used to it.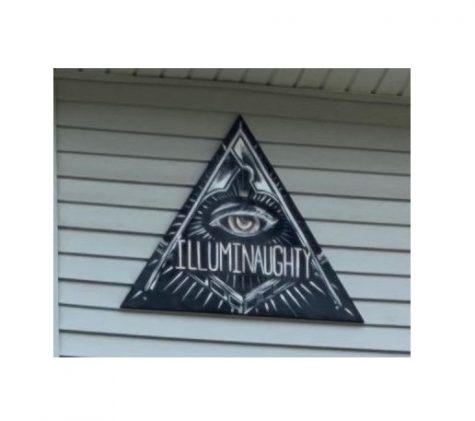 "After being in the Oxford area for a bit, you become a bit desensitized to the uniqueness of the houses being named and are like, 'oh that just happens,' " J Ravancho, Miami alumni and graduate assistant with the Rinella Learning Center, said.
For the most part, people seem to enjoy the tradition and find humor in it, Greene said. She realizes the house naming tradition is not common in other college towns when visitors of Oxford notice the signs and seem surprised.
"That's part of the unique charm of our town," Greene said.