Urle Brown, former Oxford Citizen of the Year, dies at 85
Urle Brown spent a lifetime in service to his family and community through his work with the Bethel A.M.E. Church and the Oxford chapter of the NAACP.
Brown, 85, died Nov. 18, at Woodland Country Manor in Somerville.
Born in Mount Hope, Alabama to Artis Brown and Edna White Brown, he was the youngest of seven children and affectionately called "Youngblood," by his family. 
He graduated from Leighton Training School, in Alabama, in 1952 and moved to Oxford a year later, at the age of 19. He came north to find employment and because his mother's brother already lived in Oxford. He and his siblings had visited the town during summer vacations, according to his granddaughter, Deronna Vickers. 
During a visit back home to Alabama, he was introduced to the woman who would become the love of his life, Bettye Byrd. The two were married on July 20, 1957. They lived in Oxford and had three children, Chris, Liz and Denise. 
He worked as a jet engine assembler for General Electric in suburban Cincinnati for 36 years, retiring in 1996. Retirement allowed him to spend more time doing what he loved the most, according to his family: Being with family, serving at his church, gardening and fishing.  
A faithful member of Bethel A.M.E. Church, in Oxford, Urle served as a steward, trustee, usher, and member of the church finance committee. He also sang in the choir and drove the church van to transport children and adults to and from church. Urle and his wife opened their home to countless people, welcoming many children and adults into their family. 
"My grandparents were extraordinary people. It is hard to talk about one without talking about the other," Vickers said. Bettye Byrd Brown served for many years as the director of the Oxford Advisory Welfare Service, which eventually evolved into Talawanda Oxford Pantry Social Services (TOPSS), Vickers said. "He was her silent partner, her rock, her supporter."  Mrs. Brown died in 2019.
They generously gave food from their garden, money from their pockets and love from their hearts, without ever asking for anything in return, said Vickers. Brown partnered with local grocers to collect and distribute food to those in need. His acts of service were recognized by numerous organizations, including but not limited to Bethel A.M.E. Church and the Oxford Branch of the NAACP, of which he was a lifetime member and a recipient of the NAACP Service Award. Along with his brother Eldred, he was also recognized as a recipient of the Oxford Citizens of the Year award.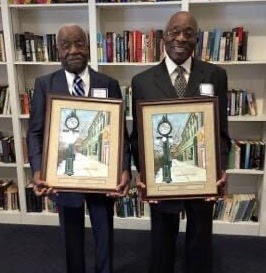 Brown grew huge amounts of vegetables in a backyard garden at his home on Spring Street, said his granddaughter. He started out giving them away to family and friends, then to those in need and eventually he partnered with local grocers to distribute surplus food to the needy. 
"My grandfather was a very humble man who just had a huge heart," said Vickers. 
He also was predeceased by his son Christopher, brothers Harvey Cee, Thom, Herschel and Jimmy; and his parents. He is survived by his daughters Liz and Denise Brown; daughter-in-law Shelby Jean Brown; sister Geneva Byrd; brother Eldred Brown; grandchildren Doronna Vickers; Marrio, Marco and Terry Christopher Brown; Jazmine Hazelwood and Christopher Jackson; great-grandchildren Kelsey Harding, Tyana Owens, Kamiah Vickers, Peyton Lipscomb, Joseph Brown and Christopher Kelly Brown; great-great-granddaughter Parker Kay Harding; and many goddaughters, godsons, nieces, nephews, cousins, family and friends. 
A private visitation was held Monday, Nov. 23, at the Ogle & Paul R. Young Funeral Home, followed by the interment at Woodside Cemetery in Oxford. 
The family would like to express their sincere thanks to Dr. Edward Crane and the staff at TriHealth Cancer Institute, McCullough-Hyde Memorial Hospital and the staff at Woodland Country Manor. Memorial contributions in Urle Brown's name can be made to Bethel A.M.E. Church, 14 S Beech St, Oxford, Ohio 45056 or the Oxford Branch of the NAACP Scholarship Fund, 3259 NAACP Oxford Ohio Branch, P.O. Box 70, Oxford, Ohio  45056