Oxford resident donates mask extenders to local hospitals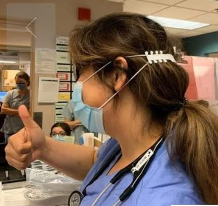 Working with a small 3-D printer, retired Miami University Administrator Ralph Gutowski produced an add-on improvement for 75 medical masks this week that he donated to McCullough-Hyde Memorial Hospital.
Gutowski said he had heard from his daughter-in-law, Angie, a nurse practitioner in Cincinnati, that the elastic ear bands on standard masks tend to chafe after they have been worn for a while. She told him a friend had shown up at work with a plastic attachment on her mask that extended the strap behind the head and kept the elastic off the ears. She asked Gutowski if he could make her one like it.
‍
It didn't take Gutowski long to do a little internet research and tinkering with the small printer he uses for home hobby work to come up with a prototype strap extender that worked. With the printer, he was able to produce four straps at a time, with each batch taking about an hour and 15 minutes to make, using a filament of biodegradable polylactic acid (PLA) made from corn.
"I did a little figuring and each one costs about 26-cents to make," he said.
‍
Gutowski, an engineer by training and a retired assistant vice president for budgeting, planning and analysis, described himself as "a tinkerer." He kept his printer running all weekend and churned out about 75 of the straps.
Gutowski also is a former chairman of the board at McCullough-Hyde Hospital in Oxford, so he quickly contacted Pam Collins, the hospital's director of patient services and dropped the extenders off in a safe-distance hand-off on Monday morning.
‍
His printer is still running and he said he intends to give the extenders away to anyone who needs them.