Talawanda softball pushes closer to SWOC title
Following one of its most successful seasons in program history, the Talawanda High School softball team has made its name known as a top competitor in the Southwest Ohio Conference (SWOC). 
Talawanda's 19-9 overall record (11-4 SWOC) earned the Brave a second-place finish behind Harrison High School (21-6 overall; 15-0 SWOC) last year.
Talawanda's quest for the 2023 SWOC softball title will likely run through defending champion Harrison. Last season, the Brave dropped three of its four conference games to Harrison. The team has not beaten the Wildcats since 2021.
"That was the first time that anybody could find on record that we had actually beat Harrison, which is a weird thing," said Head Coach Scott Davie.
Davie, who also serves as Talawanda High School principal, said he believes the team's approach to sustaining success begins with simplifying its daily approach.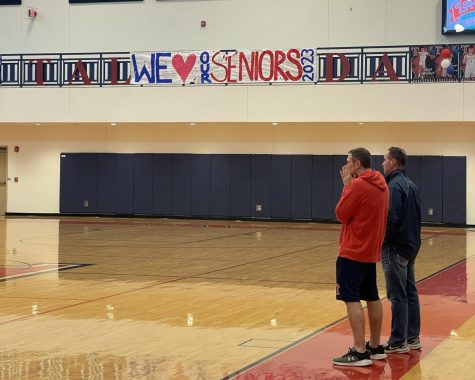 "In terms of what we want to do in 2023, I mean, we absolutely want to compete for the SWOC title again," Davie said. "The task for us with them [Harrison] is just to make sure that we're making our routine plays routinely."
"Making routine plays routinely" is a common phrase within the Talawanda program and Davie said this is an important aspect of the team's success.
"We say that phrase a lot," Davie said. "At the end of the day, if pitchers hit their spots, if hitters do what they're supposed to do, if the defense makes the routine plays when they're supposed to, we don't need great plays to win games."
Senior Captain Lilly Iden headlines the roster's returning players. The catcher finished the 2022 season fifth in the SWOC with a .522 batting average, earning first-team conference honors.
"I'm just excited," Iden said. "It's my senior year. I want to go out with a bang. We all do."
With a roster of five seniors, three juniors, and two sophomores the Brave should benefit from veteran leadership while still needing to replace the void left by graduating senior and 2022 SWOC co-player of the year Rachel Dsuban.
"I think some people will have to shake up positions a little bit," Iden said. "Having to play some places that are not as comfortable or as familiar."
Kylie Cobb returns to the mound, after receiving first-team SWOC honors as a freshman pitcher.
"I think we've built a good culture in the program and I think we have a lot of talent," Cobb said. On the varsity level we lost a couple big shoes to fill last year, but I don't think it's gonna be an issue this year."
Talawanda's 2023 season gets underway with a March 25 double header at Arcanum High School. The Brave home opener takes place March 27 against Mt. Notre Dame High School. Talawanda will face several new opponents in 2023 including Mount Notre Dame, Lakota West, Seton and Miami East.